Rapid Addition are Field Programmable Gate Array (FPGA) Vendors & FPGA Trading Suppliers. The FPGA FIX Accelerator for RA Cheetah FIX Engine™ software – halves single message latency and improves engine throughput 500% per session. FIX Messaging Revolution: Cheetah FIX engine™ with FPGA accelerator technology
Cheetah FIX Engine with Software API, no FPGA knowledge required Plug'n'play acceleration
Stack independent sessions – unlimited software sessions; up to 32 FPGA accelerated sessions
Single Java API – write once  – select your session performance characteristics by running in either software for wire to wire (tick to trade) latency of 11µs or using the FPGA acceleration for reduced Wire to wire latency of 5 – 5.5µs
Fully supported with the annual licence fee for both software and hardware components
Cost effective messaging performance increase reducing TCO without compromising business agility
Predictable deterministic message process for faster algo execution, with fewer cache misses
Field Programmable Gate Array (FPGA) Vendors & FPGA Trading Comparisons
FIX Software-FPGA Comparison – Software vs Hybrid application: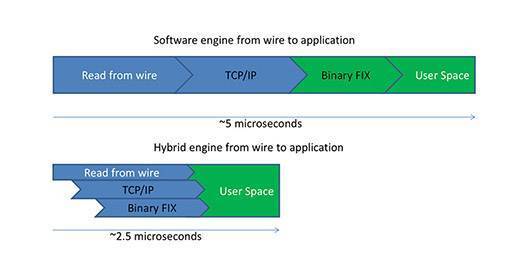 The diagram below shows a 8 Session 15k msg/s wire to wire Latency Performance, Cheetah Software with Solarflare network card v's FPGA Accelerated Cheetah Software.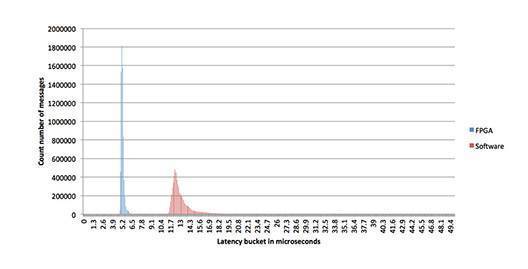 Graph below shows Buy Orders – Execution Venue simulating a 50 microsecond order matching delay. It also shows the latency of the workload completion over a 300 microsecond range, comparing open source against the commercially available Java FIX engines.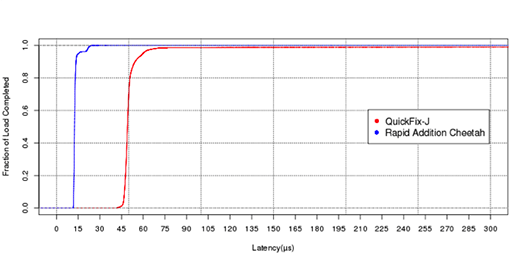 To learn learn more about FPGA click here